A legend from the Dark Ages tells of the storming of the castle of Larochette, which was already a huge and invincible fortress in the 11th century. The agressors couldn't conquer the castle by force, so they bribed the steward of the castle, who opened the main gate and let the enemy in.
Death before surrender
In the absence of the Lord of the Castle, who was on a crusade to free the Holy Land, the Lady refused to be captured and threw herself and her infant child in the deep well carved in the rock cliff under the Créhange House, the beautifully restored main building of the castle. Impressed by her courage, the invaders rescued the unfortunate mother and child and threw the steward down the well instead, to cover up the treacherous non-heroic takeover. The box with the gold the steward took in payment for his betrayal was never found and some believe it is resting deep inside the well. We, of course, know better.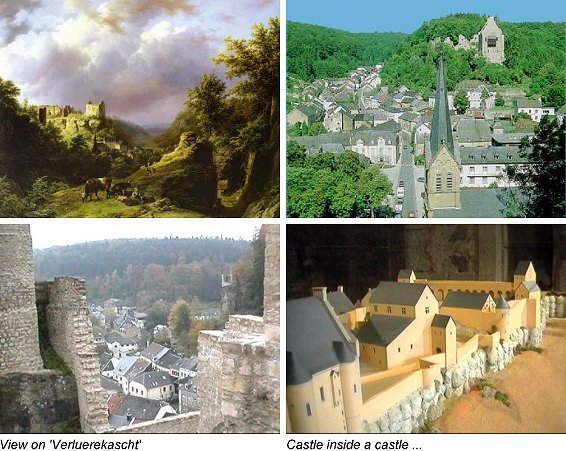 In search of the steward's treasure
Park your car in the center of Larochette (N49°47.020' E006°13.195') and walk to a place that speaks of lost generations at N49°47.380' E006°13.190'.
Navigate from there to:
N49°47.455' E006°13.575'
N49°47.240' E006°13.245' - How many vertical beams are supporting the roof? A = ...
N49°47.010' E006°13.275'
N49°46.910' E006°13.650'
Cache: N49°46.(A X 106 + 2)' E006°13.(A X 35 + 4)'

Happy hunting!
Je moet ingelogd zijn om de hints te zien